Celebrating #TransDayOfVisibility: Meet My Character Serena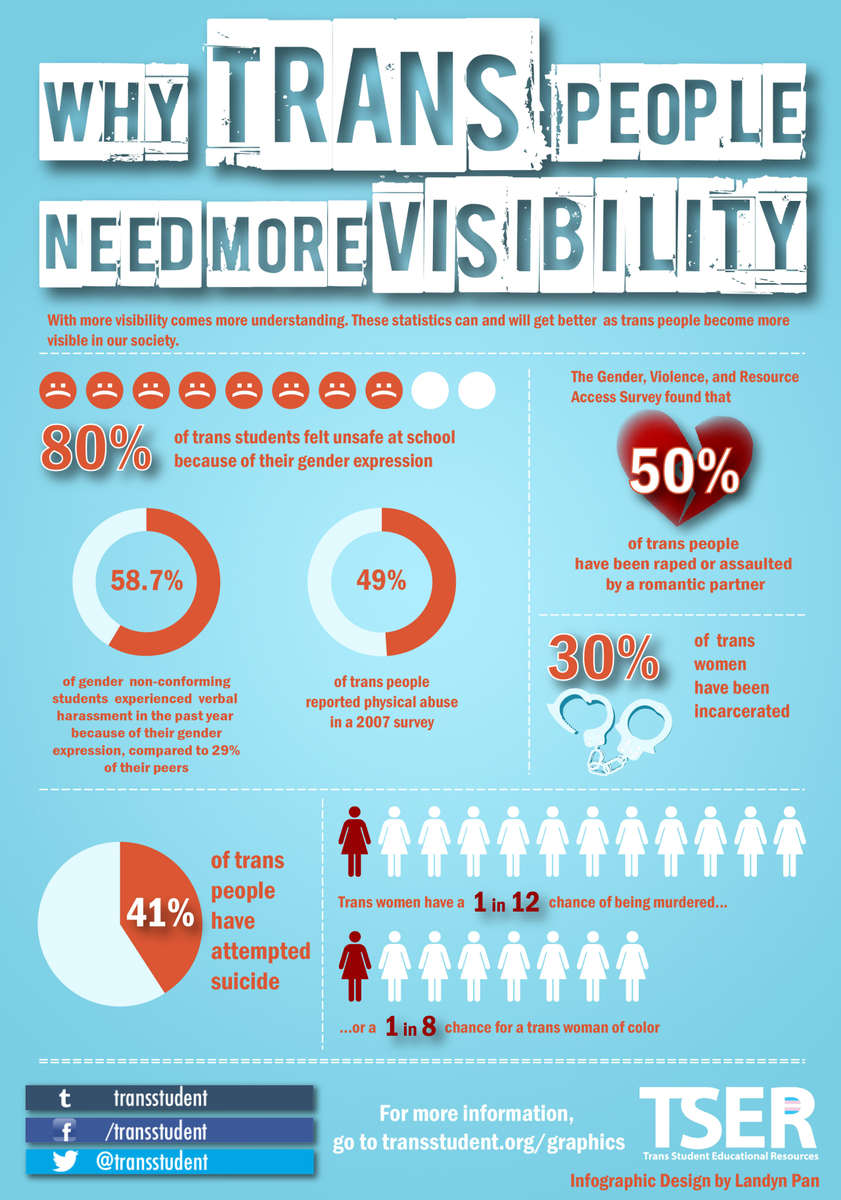 Today is a Day of Visibility for Transgender folks. As the infographic above shows, the oppression of transgender folks is brutal, at so many levels. For those of us who are not trans, we have the opportunity to act as allies. We can ask ourselves, what can we do in our daily lives to interrupt and eventually end the oppression of trans people. We may not be able to change the world overnight, but in what areas do we have influence? As a teacher, I hire trans folks as teachers, support their professional development, teach a critique of the gender binary to my students, and create welcoming spaces for trans folks in my classes. As a writer, I make sure trans folks are visible in my work.
I write about women. And that includes trans women. It's been important for me, as a woman who is not trans, to think, do my homework, and be intentional about the inclusion of trans women's stories in my book. There are many stereotypes about trans folks. One is that all trans folks are sex workers. So, if your book features a lone trans character who has a brief cameo appearance as a sex worker stereotype, that is not the visibility you are looking for. However, because my book is set in a sex work context, most of my female characters are current or former sex workers, and the trans women are no exception. However, Serena–who is trans–has left the sex industries and become the computer genius of the crew. She's the go-to girl for all things computer, and it is later revealed that she is an incredible hacker.
In her official legal job, she's the executive assistant to the  protagonist, who is the executive director of a women's health clinic. Serena does a phenomenal job holding things together because she has an incredibly sharp memory and an incredible ability to organize information. Unfortunately, these were survival skills that she had to develop in response to the incredible danger that she faced as a trans woman: the ability to track, remember names, faces, contexts. She grew up needing the hyper-vigilance of those who are never safe. Fortunately, as is the case for all of the characters in the book, they now use their survival skills as part of an activist team that provides health services to low-income women (cis and trans) in lower Manhattan, including many sex workers. And when the economy tanks, the team also starts to run an escort service. They robbing corrupt CEOs involved in a sex trafficking scandal. And they prepare to heist a billionaire.
In this novel, the community of women welcomes and protects trans women from misogynist violence, stigma, and shunning. I want to encourage all writers to think about creating fictional worlds where trans folks are visible, powerful, loved, and integral parts of the communities we create on the page.