Report Back from the SF Writers Conference – loved it!
As a West Coast writer, I've been slogging along for nine years now, trying to get a literary agent, and break into the industry.  Since the beginning of that time, the industry has changed considerably, and it's more difficult than ever to debut as a novelist in traditional publishing.  However, the internet has completely transformed the face of publishing.  The internet is full of information about publishing, but much of it is subjective or genre-specific, so it's difficult to figure out what is applicable for any given writer or book.  This is why writers' conferences are so helpful.  It gives writers a chance to interact with industry professionals to get a range of relevant information.
Writers conferences are expensive.  The San Francisco Writers Conference (SFWC) costs about $750, and there are smaller fees (around $50-60) for goodies like speed dating with agents or consulting with a freelance editor or publicist.  For some of us, this is completely out of the question, given our resources.  In that case, I would encourage interested folks to consider volunteering for SFWC.  For others of us, it's a stretch, or we'd rather do something else with our disposable income.  I think it's worth it, if you're really committed to writing and selling your books.  But in order to make it really worth your while, you need to make sure you're far enough along with your project(s) that you can benefit from access to professionals.  This may not be the case if you've "always wanted to write" or "have been working on a couple of short stories for the last few years."  These industry-type conferences are most useful for people who have at least one book-length work-in-progress, and ideally have a full first draft done.  If you haven't gotten that far yet, you would do better to invest in a local class or join a writers group to get you going.
I have admired SFWC from afar, and last year, I attended the conference in a dual role.  As an accomplished poet and teacher of poetry, I served on the faculty of the SFWC poetry track.  However, as an aspiring novelist, I also attended as a participant.  I attended panels, did speed dating with agents, consulting with the "ask-a-pro," and networked my butt off.
I expected it to be a local conference, but I was surprised to meet people from Minneapolis, New Jersey, Southern California, and even other countries.
Here's what I took away from the experience: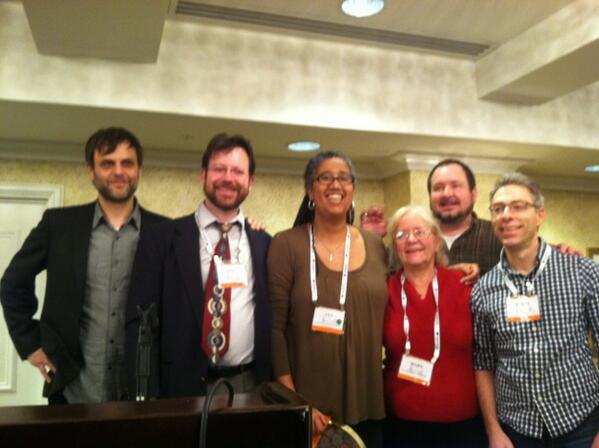 Poetry connections.  I had a fantastic time with my poetry community, in particular meeting and reading with Mary Mackey (feminist kindred spirit and practically my neighbor!), Andy Jones, Brian Felsen, Richard Loranger, Michael Zapruder.  Also, reconnecting with Cave Canem poetry fam Arisa White, and Indigo Moor, as well as meeting Joan Gelfand.  Not surprisingly, this was the part of the conference that delved most deeply into craft.  While the prose writers were asking about agents, trends, marketing and social media, the poets were talking about language and meaning.  On the business side, I got some great advice from the dazzling and savvy romance writer Lisa Marie Rice when we served together on a hybrid writers panel.  With so many panels, I got practical advice on word counts, genres, romance, women's fiction, young adult, new adult, and other genre labels from agents, editors, publishers, writers, and publicists.  Early in the conference, they have workshops on how to pitch your work.  All the panels had Q&A, and some even had quick pitches on the spot.
But the biggest advantage is the opportunity to have one-on-one time with agents, editors, and other professionals.  I pitched my book to several agents during speed dating.  It's always amazing to see their faces light up and get their card.  It was also a great opportunity to follow up with agents I'd had contact with at previous conferences.  If you're just interested in pitching and you live in the SF Bay Area, the WNBA has a Pitch-O-Rama event in March that is just a half-day and very affordable.
The other thing that I did at SFWC that I'd never done before, was their fabulous 90-minute "Ask-A-Pro" session, where they put publishing professionals at tables in a big banquet room, and you could sit at anyone's table you wanted.  Then each person got two minutes to pitch, ask questions, get advice, etc.  These folks were editors, publishers, publicists, attorneys, creativity coaches, web gurus, writers, etc.  Most of them had some kind of consulting business for which they were seeking clients, but those two minutes were free.  Of course, if the table wasn't full of other people, you could talk for much more than two minutes.  I approached David Henry Sterry, author of Hos, Hookers, Call Girls, and Rent Boys.  Sterry is the husband of husband and wife team The Book Doctors.  I caught up with him very late in the session and got a long consult on my pitch, and a referral to his agent.  I also spoke with the other Book Doctors member Arielle Eckstut, who gave me great advice about a book I had queried to one of her colleagues at the Levine Greenberg Agency.
I had a lovely talk with Brian Klems, the online editor of Writers Digest.  As a subscriber and reader, I have always wanted to be published by them.  I pitched a couple of stories and got a bite!
Finally, I got some great advice from Oakland-based publicist Karma Bennett, the media and publishing strategist Anne Hill.   Plus I picked up a card from Linda Lee of Smart Women, Stupid Computers for my friend who's struggling with WordPress.
Above all, I left feeling grounded, hopeful, informed, connected, and supported.  If you missed SFWC, and can't wait til Feb 2015, there are other conferences in other parts of the country throughout the year that fill some of the same needs.  You can look for them in Writers Digest, Poets & Writers, and other publications.  However, for this working mom who can't just pick up and travel easily, SFWC was a godsend.
So I'm sending encouragement to all the writers out there, wishing you joy in the writing process, and the support to make your publication dreams come true.